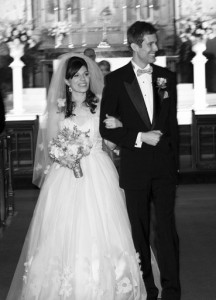 Dear Alice,
I just wanted to thank you again for creating the most amazing dresses for my mother and me. I couldn't wait to put on my dress and enjoyed showing it off throughout the night. I felt confident, comfortable, and like a beautiful bride thanks to all the hard work of you and your assistants. 

I'll never forget walking to your store, telling my mom that I would not fall in love with the first dress I tried on, and assuring her that we were just looking. Well, from the moment I put on that first dress, nothing else compared. 

Guests complimented me throughout the night and loved the classic and elegant dress. Overall, the evening was a blast and went better than I ever imagined.
Sincerely,
Lisa H.
Dear Alice,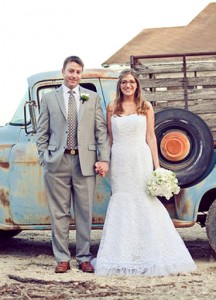 From the first moment I began searching for my wedding dress, I admired the work of Alice Padrul. Her gowns seemed more unique and whimsical than the others. I didn't go there first and I wish I had, because I wasted A LOT of time at various bridal shops in Chicago. Others had tiny selections, some were too pretentious, and no dress or place felt right until I went to Alice's. I had three in mind, but ended up with something completely different. Everyone's image and feeling wearing a dress is unique and choosing a long, white or cream gown isn't something we're used to doing. It's weird actually. All I know is design and craftsmanship are beyond evident in her work. Her designs are a cut above the typical you see in all the magazines. Plus, she and her husband are the sweetest people on Earth. They are so personable and give you such individual attention. Plus, there's something about a Russian accent telling you look beautiful, to make you believe you truly appear that way. Visit her gorgeous space and see her designs first. I guarantee you'll find "the one".
Love,
Liisa S.
Texas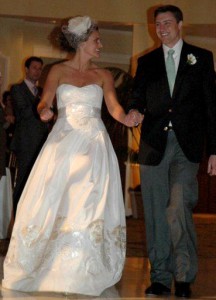 Dear Alice,
I cannot say enough wonderful words about Alice and the experience I had with her. I knew from the second I stepped foot in her boutique that it was THE place. Everything about the experience at the boutique just "felt right." Alice and her husband were very welcoming and understanding about everything. 

I must have tried on every dress in her store, since they are all so gorgeous, and not once did I feel rushed at all. I fell in love with the last dress I tried on but there were a few things I wanted to change about it. Alice was beyond accommodating and helpful with all of my requests. Not only did she meet all of my requests but having her artistic eye made the dress even more gorgeous. She literally made me the dress of my dreams. Her work is truly amazing and the experience she gives to her clients is more than any other high end boutique could come close to. I wish that every bride could experience the professionalism, creativeness, warmth and expertise that Alice and her "family" have to offer.
Sincerely,
Jill D.
California
Dear Alice,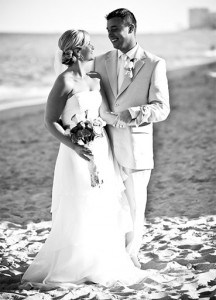 I purchased one of your gowns in South Florida from a Bride's Against Breast Cancer sample sale. Your dress was the second one that I tried on and although I tried on many more throughout the course of the day, yours was the one I carried with me, the one that I just couldn't seem to put back on the rack. I was having a beach wedding with just the right mix of casual elegance. Your design was EXACTLY right for the day, the venue, the time of year, and for me. I described it as unique and one not to be forgotten. The look on both my father's and my groom's faces was enough to know that I made the right decision. 

At first I was unaware of your designs, now I follow you religiously and smile at the fact that I found you here in Miami and was able to WOW my friends and family with your unique, elegant, casual, fun, and feminine gown. I would recommend you to anyone and everyone, however I secretly hope to keep that special look, that special style all to myself!

 Thank you for your visions and please continue making brides feel beautiful on their wedding days as well as for all the days after!
Sincerely,
Ryann Goldberg
Florida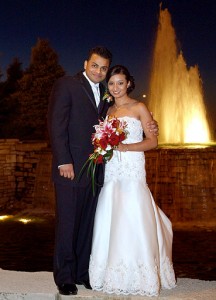 Dear Alice,
Thank you so much for creating my perfect wedding dress. We first met in March 2007 and from the minute I stepped into Alice's gallery, she made me feel at home. Alice welcomed my ideas, listened to my concerns, and made me feel very special all while she was designing my gown. She carefully scheduled all of my fitting appointments and made sure that my wedding dress was the least of my concerns.
Alice is humble, but takes great pride in what she does. I can't tell you how many compliments I received on my wedding day and the best part was that the dress fit me like a glove. I couldn't have asked for anything more, but Alice went above and beyond by upgrading my plain wedding shoes and applying the leftover lace from my dress to my shoes, so my shoes could match my dress. Needless to say, my wedding shoes looked great! I live around the corner from Alice's gallery and continue to recommend her to anyone who wants a custom designed dress. I can't say enough about Alice, but I want to thank you for making this such an enjoyable experience.
Regards,
Jasmine O.
Hi Alice!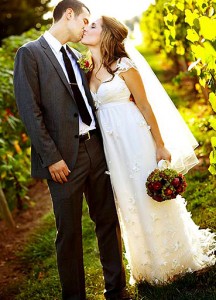 I just wanted to send you a note to thank you for the beautiful wedding dress. I was looking for something unique yet classic; simple yet memorable; something that wasn't princess-y, yet would make me feel like the most beautiful girl in the room for one day. I looked through hundreds of photos when I stumbled upon your April dress on theknot.com, and I knew right away that it was just what I was looking for.
I went to your shop the next day and bought it — the first dress I tried on, and without my mother or anyone else with me! I just knew it was the right dress. The day of my wedding, I couldn't have been happier. Thank you so much for designing it, but also for working with me to make little tweaks to make it more "me." It was so nice to be able to work closely and directly with the dress designer on the alterations, rather than someone more removed. I always knew I was in good hands. 

I wish you the best.
Thanks again!
Megan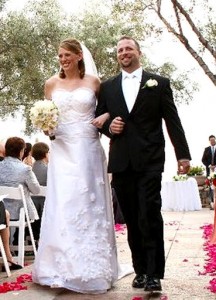 Hi Alice!
Thank you again for all your hard work making my wedding dress perfect! Working with you and your team was such a great experience and made the dress part of the wedding stress-free and fun! The fact that I was able to contribute my vision to the dress and put it in your capable hands was wonderful and having a one-of-a-kind dress is very special! The final product was simply beautiful and both Troy and I loved it! Again, many thanks for your contribution towards making our wedding day the very best day yet!
Best wishes,
Renee B.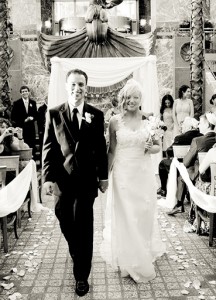 Hi Alice,
Its been a little more than a week since our wedding and I am still getting over the excitement of the day. My dress was perfect! All day long people kept coming up to me to tell me how pretty my dress was and how "angelic" it made me look. I have to say that I was pretty surprised by how comfortable I was in the dress during a strenuous 1/2 hour hike through a park for afternoon picture with the wedding party followed by 4 hours of dancing during reception. Most importantly, Fred loved my dress too! I can't thank you enough for the service and patience that you and your staff have provided. Not once did I have to worry about the final product, which turned out to be beyond amazing.
Much Thanks

,
Julia K.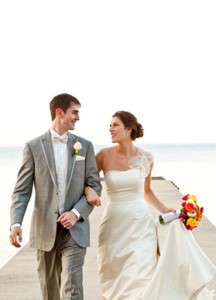 Dear Alice,
I feel like I was destined to wear one of Alice's dresses. I felt so special just walking into her gorgeous studio. Alice gave me her 100% undivided attention as I tried on about every single dress in her studio. Every dress made me feel beautiful. After I had tried on about 10 or so of her dresses, I saw a dress on a mannequin and asked if I could try it on. Of course Alice said yes. Putting on this dress and looking in the mirror was nothing short of magical. I had that moment that every bride dreams of – finding The Dress. I was shocked how perfect the dress was. I know this is not common, but I was able to buy the dress off the rack and it fit me with ZERO alterations. None. I really feel like my dress was meant to be.
I want to thank Alice for the unbelievably beautiful gown – it was classic and simple with a twist. I am so happy that I got to wear one of Alice's dresses at my wedding. I'll never forget how beautiful I felt or how much my husband loved the dress.
Thank you Alice!
Holly S.