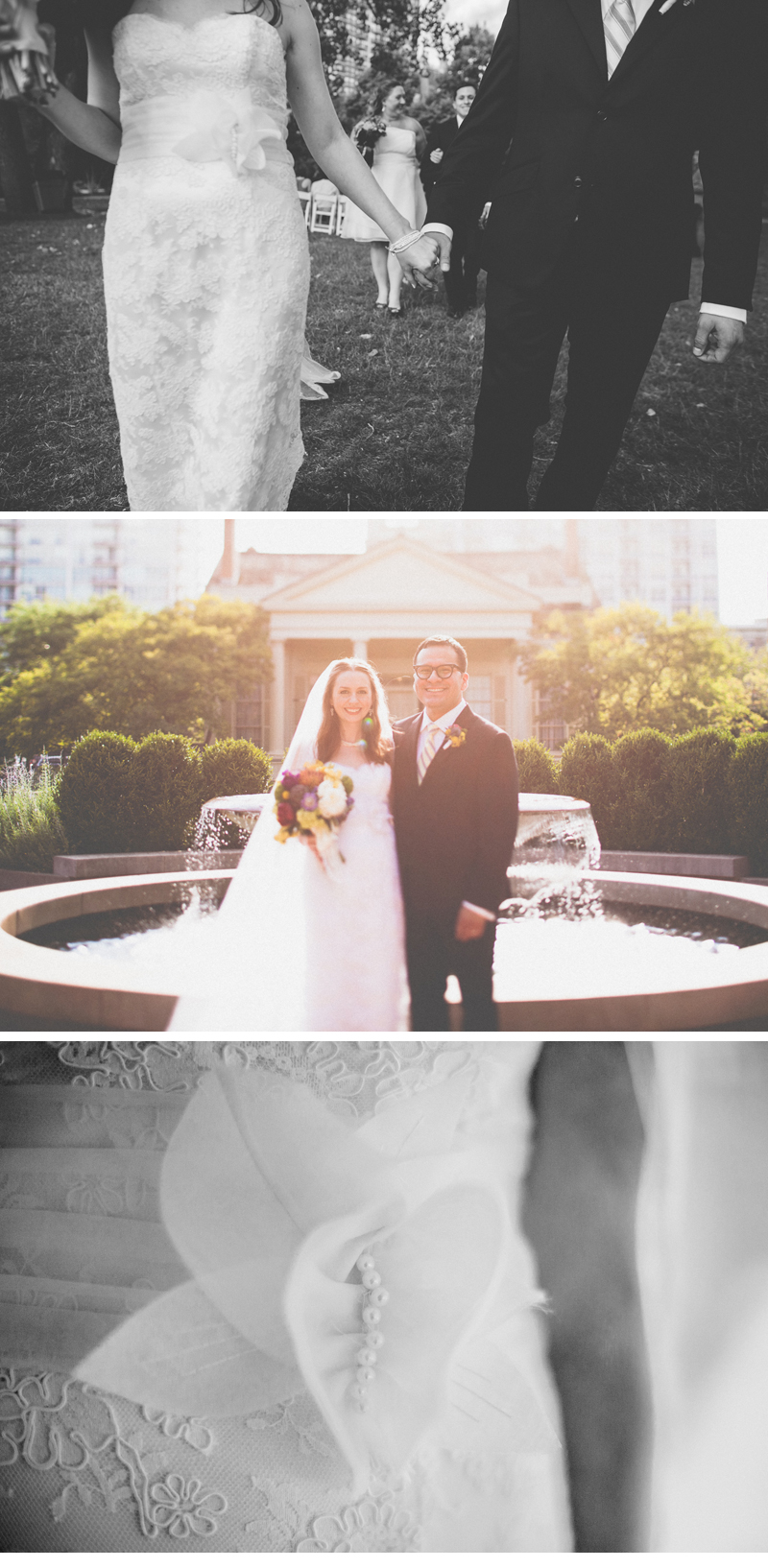 We just received these beautiful photos and kind testimonial from our bride Julia W. It was such a pleasure to work with her, congratulations Julia!
"I never dreamed that picking out a wedding dress could be such a special and enjoyable experience, and I feel like such a lucky bride that I found you and your wonderful studio! Your dresses are works of art and I'm so grateful that you were able to work with me, despite my budgetary concerns and time constraints! As you said, you want to help all of your brides, and I'm so glad you were able to fit me in and make me one of your brides.
I started out with a very specific idea of what I wanted, and found a "perfect" dress shortly after becoming engaged. Months before the wedding I started feeling hesitant about the dress style (tea length), and decided to take one last look at dresses on The Knot. I broadened my search to full length dresses and very quickly found a picture of your Sofia dress. I was blown away! I knew immediately that I wanted one of your dresses, and as luck would have it, I discovered that you're based out of my hometown, Chicago! Your space is so beautiful, warm, welcoming, and removed from the typical chaos that is wedding dress shopping. You were so patient and helpful while I was trying on dresses, and gave me your honest opinion about each one, helping me find the perfect, most flattering dress (The Anita!). Your creativity really comes through in your unique, romantic designs. I love that you customized my dress to make it more my style, and created the most beautiful, over the top veil! Your dresses are not only beautifully detailed, they are superbly made. I can honestly say that I did not see a dress similar to yours anywhere else in my search. Also, the gorgeous fabrics are the highest quality, which makes them SO comfortable!
Throughout my planning, I tried to work with as many local businesses as possible, and I love that you're here in Chicago making beautiful dresses! I also sincerely appreciate your help in guiding me to other fantastic vendors for my bridal jewelry and shoes, which in turn led me to my wonderful florist! I would recommend your studio to any bride looking for a personal experience and something a little different from the usual wedding fashion suspects.
I felt like the most beautiful girl in the city on my wedding day, and I have you to thank for that!"