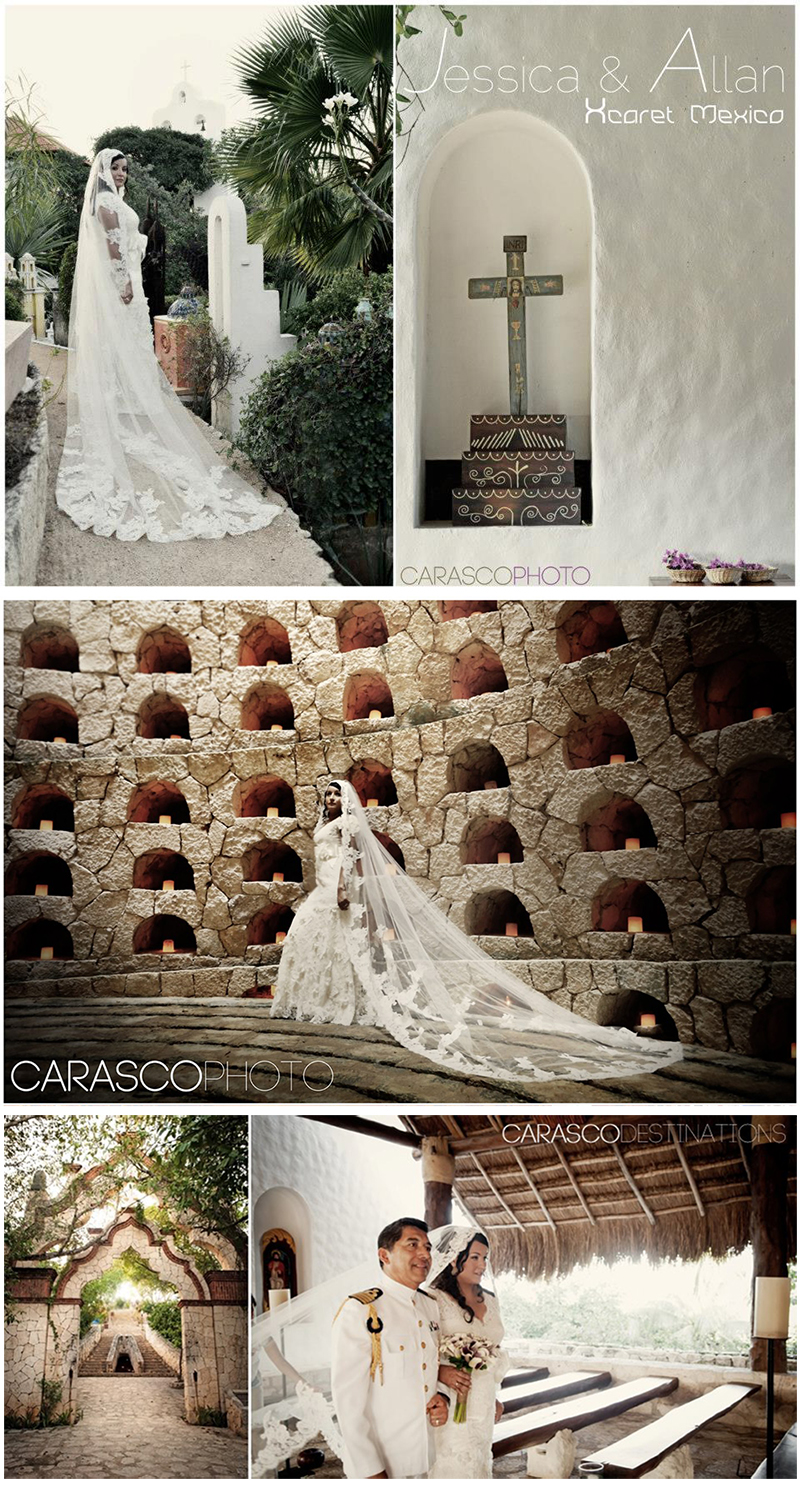 We just received these stunning photos from our bride Jessica of her wedding in Xcaret, Mexcio along with some sweet words about her experience working with us. Jessica came to us from British Columbia for her perfect wedding gown and we had such a wonderful time working with her. Congratulations Jessica!
"Alice was excellent from the very beginning, discussing my initial ideas with me and then proposing beautiful designs and recommendations that incorporated them. Even if you have no clear ideas of what you want, she's quick to understand your style (as well as the style that of the event you'll be attending) and then propose designs accordingly. She is a perfectionist at heart, and has an attention to detail, good taste and a strong commitment to delivering only the best that inspires absolute confidence in her work. I would highly recommend her to anyone who is looking to have a special dress designed and made for them!
Her designs are unique statement pieces executed in the most beautiful and interesting fabrics. What is so special about her process is that she works with each bride to create a truly custom gown that will make you look like the most beautiful version of yourself– and not a cookie cutter bride from a magazine. Also, her gowns are truly COUTURE. This is a word that is often overused in the fashion/ bridal industry– but Alice is the real deal. During the fitting process she took a very creative approach to the pattern making and design of my gown and her additions were all spot-on. She was not satisfied until the gown was an absolutely perfect fit and executed to her high standards.
Now for the dress: All I can say is, crazy-amazing-beautiful-wow! The gown was simply elegant, but the VEIL, was absolutely unbelievable. A 2-piece masterpiece!!! From the muslin rendering, to the final dress fittings
There aren't enough words to describe how gorgeous my dress was, how absolutely amazing Alice is, and how wonderful the entire wedding dress experience was. I loved my dress, I looked incredible.
My husband cried the entire time he saw me walk down the aisle to marry him, and that's what mattered the most to me.
I was thrilled with the outcome. Not only was my dress beautiful, but it made me look beautiful and special. And it was comfortable as well! I danced the whole night away with my husband. If you are looking for a truly unique and custom gown that will express your personality, then I highly highly recommend working with Alice Padrul in Chicago Il. So all brides, don't be afraid to purchase your dress from Alice Padrul. She works with brides all around the world. I'm from Canada and her service and communication is impeccable.
Jessica from Canada"